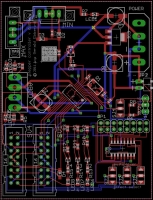 Aantal uur per week: 24-32 uur, met mogelijkheid tot uitbreiding naar 40 uur.
Over het bedrijf: Over het bedrijf: Ultimaking Ltd. is een jong, plat en snelgroeiende organisatie die 3D-printers beschikbaar stelt voor zowel bedrijven als consumenten.
Over de functie: Ben je op zoek naar een uitdagende en zeer belangrijke functie bij een snelgroeiend bedrijf, waarbij techniek en teamspirit centraal staan, dan ben jij de persoon die wij zoeken! Binnen Ultimaking maak je deel uit van een multidisciplinair projectteam, bestaand uit een mechanical engineer, software engineer, chemical engineer en electronic engineer. Samen hebben jullie als doel de Ultimaker verder door te ontwikkelen en elkaars ideeën op elkaar af te stemmen. Jij bent er dus verantwoordelijk voor dat de Ultimaker de beste 3D-printer is en blijft: een printer die snel, nauwkeurig en gebruiksvriendelijk is. Mede door jouw creativiteit kan de Ultimaker uitgroeien tot 's werelds bekendste en populairste 3D-printer!
Taken:
Ontwerpen en ontwikkelen van elektronica van de Ultimaker
Continu technisch overleg en afstemming met teamleden
Analyse van interne rapportages met betrekking tot feedback van klanten
Verantwoordelijkheden/rol/competenties:
Creatief/Innoverend/Vooruitstrevend denken
Bevlogenheid/enthousiasme in techniek van 3D-printers en open source hardware;
Werken met snel veranderend product.
Proactieve houding, zelf ideeën initiëren voor verbetering van product of werkprocessen.
Ambitieus en in staat om mee te groeien met de organisatie
Communicatief vaardig
Sociaal en collegiaal
Kunnen samenwerken in een zelfstandig werkend R&D-team met mensen met verschillende achtergronden.
Kennis willen opdoen van de mogelijkheden van het product
Kennisdeling met je collega's
Resultaatgericht werken
Flexibel en stressbestendig.
Open staan voor ideeën van buitenaf; geen last hebben van het "Not Invented Here Syndrome"!
Functie-eisen

Kennis:
HBO/WO-opleiding richting Electrotechniek, Mechatronica of soortgelijk;
Kennis van CE-keuringen;
Kennis van PCB-productietechnologieën;
Kennis van Design for Manufacturing (DFM) en Design for Assembly (DFA);
3 tot 5 jaar werkervaring
Aansluiting met andere domeinen (met name software)
Kennis over of ervaring met 3D-printer is een pré
Vaardigheden:
Ontwerpen in Eagle, KiCAD en/of Altium;
Uitstekende kennis van CAD;
Bekend met Arduino en ARM microcontrollers is een pré;
Bekend met embedded software is een pré;
Aansluiting met andere domeinen, met name software en embedded software.
Spreekt ons bedrijf of het product je aan, surf dan voor meer informatie naar http://www.ultimaker.com.
Om direct te reageren, mail je je motivatiebrief plus CV naar jobs@ultimaker.com. Geef daarin ook voorbeelden van eigen werk. Indien je wordt uitgenodigd om op gesprek te komen, zullen we je vragen het eigen werk mee te nemen indien mogelijk.
De sluitingsdatum voor deze vacature is vrijdag 1 juni 2012.